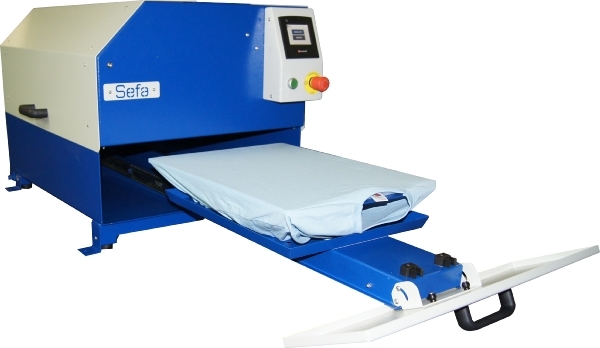 Sefa iSpray 2 Pre-treatment for DTG
Overview
Sefa iSpray 2 Pre-Treatment Machine for DTG.

This machine has nozzle selection capability (right/left or both at the same time), for accurate and consistent spraying precision and minimal waste of pre-treatment liquid. The recycling tank also reduces liquid waste when cleaning.

Large space around plate provides capability to spray-treat large garments, although a junior plate is available for treating smaller garments.
Specifications
Plate Sizes

400 x 500mm

Weight

95 kg

Power Supply

230V AC

Electric Power

300 W

Amperage 1.3A

Cycle Duration

3 - 10 secs

Max thickness of Material

25 mm

Features
European Manufacture:
Junior Plate Available:
Efficient Maintenance:
Easy access to side housing (hose & water can provided)
Large Threading Area:
Easier loading of thicker items (e.g. sweaters & jumpers)
User Friendly:
Intuitive touch-screen configuration
Unique Loading/Feeding Mechanism:
Simplifies use and reduces excess fluid collection